Cuisine NZ Good Food Guide
(www.cuisine.co.nz/good-food-awards) (https://www.cuisine.co.nz)
     Una giuria di esperti valuta una rosa di ristoranti in tutto il paese per Cuisine NZ Good Food Awards (precedentemente conosciuto come Cuisine NZ Restaurant of the Year Awards). Dall'Edizione 2013,  è stato adottato un nuovo sistema di rating, con punteggi in ventesimi (da 1 a 20) e un  sistema di rating con cappelli da cuoco Hats (da 1 a 3).  
     La giuria di esperti, diretta da Kerry Tyack e dall'editore di Cuisine Kelli Brett (Sarah Nicholson sino al 2015),  è composta da professionisti del settore gastronomico e enologico: Ngaire Baker, Philip Bothwell, Margaret Brooker, David Burton, Lucy Corry, Tina Duncan, Emma Easthope, Ginny Grant, Celia Harvey, Michael Hooper, Elizabeth Latham, Rod McDonald, Ray McVinnie, Jacqui Murphy, Brett Newell, Christiaan Palsenbarg, John Saker, Ewan Sargent, Charmian Smith, Fiona Smith, Jenny Stewart e Sarah Muro.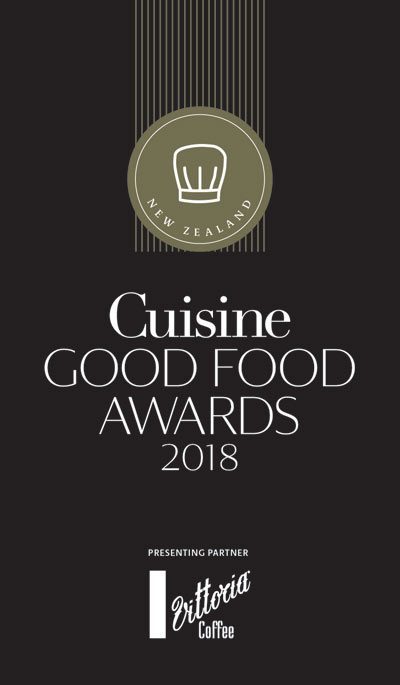 Cuisine NZ Good Food Guide 2018 (15 Ottobre 2018)
Per  leggere l'elenco completo di tutti i ristoranti che hanno conquistato i "Cappelli" (Hats)
clicca su: (http://www.giovannigandinithebestrestaurants.com/canale.asp?id=6507)



Cocoro (Auckland - Auckland) Makoto Tokuyama


TRE CAPPELLI


Cocoro (Auckland - Auckland) Makoto Tokuyama (http://cocoro.co.nz)
Kazuya (Auckland - Auckland) Kazuya Yamauchi (www.kazuya.co.nz)
Clooney (Auckland - Auckland) Des Harris e Tony Stewart (www.clooney.co.nz) 
Roots (Lyttelton - Canterbury) Giulio Sturla (www.rootsrestaurant.co.nz)
DUE CAPPELLI
Sidart (Auckland - Auckland)  Sid Sahrawat (www.sidart.co.nz)
Amisfield (Queenstown - Otago) Waughan Mabee (https://amisfield.co.nz)
Apero (Auckland - Auckland) Leslie Hottiaux  (www.apero.co.nz)
Cassia (Auckland - Auckland) Sid Sahrawat (www.taurant.co.nz) 
Palate (Hamilton - Waikato) Mat McLean  (http://palaterestaurant.co.nz)
Whitebait (Wellington - Wellington) James Pask (http://white-bait.nz)
Bistronomy (Napier - Hawke's Bay) James Beck (http://bistronomy.co.nz)
Black Estate (Waipara - Canterbury) (http://blackestate.co.nz)
Craggy Range Restaurant (Havelock North - Hawke's Bay) Casey McDonald (www.craggyrange.com)
Elephant Hill (Te Awanga - Hawke's Bay)  (http://elephanthill.co.nz)
The Grill by Sean Connolly (Auckland - Auckland) Sean Connolly (www.skycityauckland.co.nz/restaurants/the-grill)
Hopgood's & Co (Nelson - Nelson) Aaron Ballentyne (www.hopgoods.co.nz)
Logan Brown (Wellington - Wellington) Shaun Clouston (www.loganbrown.co.nz)
Noble Rot (Wellington - Wellington)  (www.noblerot.co.nz)
Ortega Fish Shack (Wellington - Wellington) Regnar Christensen (www.ortega.co.nz) 
Pacifica (Napier - Hawke's Bay) Jeremy Rameka (www.pacificarestaurant.co.nz)
The Sugar Club (Auckland - Auckland) Josh Barlow (www.skycityauckland.co.nz/restaurants/the-sugar-club)
Urban Oyster Bar & Eatery (Nelson - Nelson) Riki Day (http://urbaneatery.co.nz)